Featured Article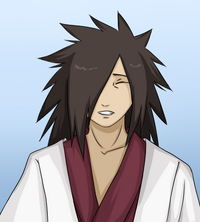 Rasetsu(羅刹, Lit. Man-Eating Devil) is the only son of Hashirama Senju and Mito Uzumaki. He prefers to keep his identity a secret by completely forgoing the usage of a clan-name to his title. After his debut as a primarily antagonistic presence, Rasetsu presented himself to the world as a masked individual, earning himelf the title of Tobi The Second(二代目トビー, Nidaime Tobi) or more commonly referred to as Tobi II(トビーツウ, Tobi Tsu). In a fashion similar to the original tobi, Rasetsu convinced the world that his true identity was that of an iconic and legendary figure in the history of the nina world, having adopted the identity of noneother than Rikudō Sennin, Hagoromo Ootsutsuki himself, though this was later proven false when he was unmasked in public.
Chat




Featured User

No user of the month selected.

Statistics

898 total number of pages since October, 2013
92 articles since October, 2013
89 files uploaded since October, 2013
0 user registrations since October, 2013
3,170 edits made since October, 2013
Poll
What is your favorite Nature Transformation?